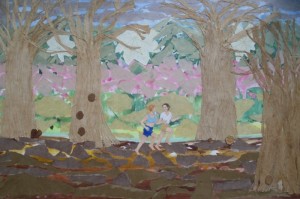 Acryl auf Leinwand, echte Baumrinde, Kalahari-Papier (handgeschöpft), Astscheibchen, Figuren aus Papier, 100×150, April/Mai 2011
My idea came of two, that are jogging harmoniously together.
What evolved out of this was very special to me :it was to realize the sincere friendship between the two of them, which in my experience can not very often be found. I had the chance recently to experience such close being together during my stay in Kauai.This painting is indeed the expression of it! The lightful shimmering of the wood mirrors the easiness and freshness of the friendship.