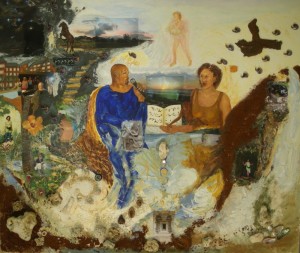 From my travel to Kauai, Hawai, I brought a few coralls, red iron- containing soil and a lot of new, fulfilling experiences with me.
When starting to fix some of these findings on the canvas, I had no idea, how this project will unfold…
I dived deep into a world of powerful, completely transforming and rejuvenating energies and this gave rise to- me!
In the middle on the left side I'm standing, just staying, to just be.
Everything, how it came up and together, was so full of surprises and revelations…
Here You can see a few details: