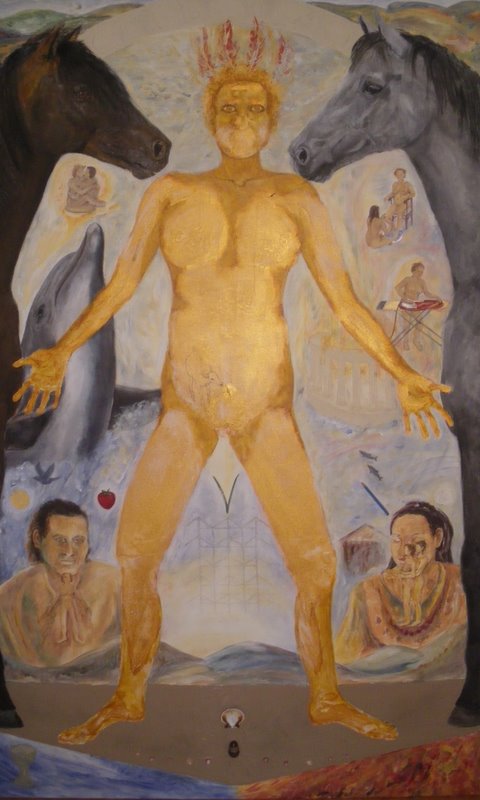 AHMYO
The horses- like two wings, the arch with the symbols for the female- the shell and for the male- the acorn, inspired by how Michelangelo represented these in the Sixtinth Chappel, are building the portal and let the horses appear like unicorns.
On the left Babaji, my Master from Heidahan/ India, in whose presence I can let go of all, that is no more needed and old.
On the right Maria Magdalena, maybe another Goddess-, in whose shelter the erecting female and the giving hold to her male part- can now recreate and set themselves free.
The wounds of gender being 'ironed' out.
Above the 'Washing of the feet': dignifying and honoring every part of the person, the whole being in LOVE.
The dolphin gives a little clap: 'now do it…finally accept it…'
The 'crown of fire' gives evidence of the power of transformation.
The deer reminds the picture of a mother- deer licking her fawn, the approach full of graceful caution and tenderness…
On the right side down the handcuffs are dissolved by the fire and on the leftside the chalice turns to the symbol of the gral
The theme is the union of the female and the male to a very powerful oneness.
My inspiration to this painting was to express, how I came out of the realm of being lost, stood up and experience the reality of my whole being becoming the gral.
The painting glows very warm and golden.